I was a teenager during the 1970's so I vividly remember the fashions of that era. I scoured the Internet and found photos of things I remember from the 1970's.
Remember the plaid maxi skirts with boots, turtleneck sweaters and velvet jackets? Most of the girls in my high school wore this for the Homecoming Football game.
And remember how we wore cut off blue jeans (men and women) for shorts! The guys I knew even wore them for swimming. We girls liked them shorth with the ragged edges. I even hand embroidered mine.
And talk about shorts! We liked hot pants!
I also remember the suede and fringe jackets and boots. I had a suede jacket and the moccasin boots.
Here's a man's fringed vest.
I wore them with blue jeans and these kinds of peasant shirts with the embroidery and cinched necks.
We wore high waisted designer blue jeans.
The guys wore these bluejeans.
The boys in high school went through a faze of wearing these striped polo shirts.
Here are some tennis shoes that look like the ones that were popular.
Men and women wore platform shoes. I had a pair of sandals just like these.
Corduroy pants were popular for men for casual wear, as were corduroy sports jackets.
Men's polyester dress slacks were for dressier occasions. And the wild colors, contrasting outer stitching and plaids were popular.
And held up with a white belt.
As you can see patchwork was popular in pants, skirts, dresses, shoes, pocketbooks.
Here are a pair of patchwork suede shoes.
Polyester leisure suits were in every shade of the rainbow!
Talking about polyester and pastels...tuxedos were in all the rainbow colors and had all kinds of frilly shirts.
And the polyester evening dresses for the Prom were popular in my high school. I had a dress just like these in dark teal.
Long sundresses or sleeved dresses in swiss dot were popular too. My Mother actually made a lovey blue swiss dotted long sundress for my sister to wear to her Prom but we also wore it as bridesmaids in each other's weddings. My sister was married in a long white sundress with the ruffles that were so pretty for a young girl! See the photo above of the tuxedos. The girls in the long white dresses and the girl in the long green dress are wearing dresses in this style.
For going to the disco, men wore polyester slacks, polyester shirts with opened necks, leisure suits and platform shoes.
At the disco, girls wore polyester dresses with varying hemlines, jumpsuits, bell bottom pants with halter tops, etc. And platform shoes!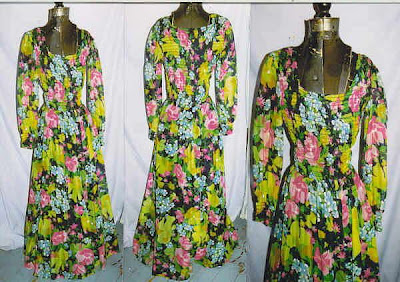 I loved these halter tops for the summer.
Hemlines were up and down in the 1970's. From mini-skirts to maxi-skirts. I had them all.
Remember the Member's Only leather jackets? Stan had one.
And the suede coats with fake lamb's wool.
I remember these sweaters on boys too.
I loved the high waisted slacks and trousers.
The crocheted, knitted look was in too. Shawls, ponchos, long sweaters, etc.
Here are some leather pocketbooks from the 1970's.
I had a fold over patent leather purse exactly like this one.
I had a purse just like this except in different colors.
The puka shell necklaces for the boys were a fashion.
And, finally, the bathing suits of the 1970's. I particular liked wearing the maillot bathing suit like these.
Here is the 1970's bikini.